Welcome to Mathrubhumi Newspaper Ad Booking Portal. Use this portal to book any Newspaper Ad instantly online for Matrimonial, Property, Recruitment, Public Notice at the lowest rates. Pay via Credit Cards, Debit Cards, UPI, Net Banking or Cheque.
Worried about getting contacts, rates, deadlines and manual booking procedures for your Mathrubhumi classified ads? Your search ends here- Now you can book newspaper classified text and display ads via releaseMyAd - India's largest newspaper ad booking portal. Just 3 simple steps and your ad is booked for the scheduled date.You can avail the best rates and discount packages for your Mathrubhumi classified ads only at releaseMyAd. Get started !
---
Ad Formats In Mathrubhumi :
Ad Type
---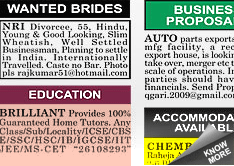 There are two types of classified ad such as Classified Text Ad and Classified Display Ad. Classified Text Ad is the most cost-effective forms of advertising in any Newspaper. The Ads appear in the classified section in the standard running text format. Rate is charged per Line/Word/Character basis. Enhancements like tick mark, colour, bold font, border lead to extra charges. Classified Display Ad is more visually appealing than classified text ads. Here one can add customized font, colour, logo or image to make the ad visually more effective for the target readers. These ads are charged on the basis of per sq.
Display advertisements are the most extravagant form of newspaper advertising. They can be published on any page and can occupy any amount of space in a specific newspaper page.
---
Mathrubhumi Ad Booking Centers :
LOCATIONS
---
Why advertise in Mathrubhumi Newspaper ?
---
WHY ADVERTISE IN
Mathrubhumi

NEWSPAPER?
---
Mathrubhumi is a newspaper of some repute, having made notable contributions in India's freedom struggle. The newspaper is also known to be an excellent advertising platform, namely because:
Mathrubhumi is among the most widely read newspapers in Kerala, its state of origin.
Mathrubhumi is editorially one of the most dignified newspapers, and are responsible for making several significant contributions to Indian journalism.
Mathrubhumi's advertising rates are affordable.
You can utilize these ad types by advertising in various categories such as Matrimonial, Property, Obituary, Business and Education.
When you book ads on Mathrubhumi through releaseMyAd, you can avail of a number of offers, discounts and combo packages which can help you save a lot of money
View Mathrubhumi Ad Rates for :
ADVERTISEMENT RATE
---
---
How To Book An Ad Mathrubhumi Newspaper?
---
HOW TO BOOK AD IN
Mathrubhumi

NEWSPAPER?
---
Now, let's see how you can book your Mathrubhumi Newspaper ads via releaseMyAd:
First, select which of Classified Text, Classified Display and Display ads you would like to employ for your ad. Subsequently, choose ad category and location.
Compose/Upload your ad material. If you have chosen display ads, but you do not have a creative ready, we can design an ad for you.
Finally, select which date(s) you wish your ads to be printed & clear payment via a host of online & offline methods.
releaseMyAd's online ad portal is an integrated newspaper advertising gateway, through which you can get access to the best advertising rates, the most enviable deals, and the most diverse advertising options.
With us, you can book your ads on Mathrubhumi in the form of text classified, display classified and display ads. releaseMyAd has been accredited by the Indian Newspaper Society (INS) as a recognized newspaper advertising agency.
The different varieties of ad types have been explained below:
Classified Text: Classified text ads are simple text ads that are printed on Mathrubhumi's dedicated Classifieds page. These ads are very affordable & easy to compose.
Classified Display: A lot like display ads, with a few adjustments. These ads allow coloured photographs, company logos, and custom font size, among others. Display classified ads are only printed in Mathrubhumi's Classifieds page.
Display Ads: Display Ads are the most effective variety of newspaper ads. Display ads allow a lot of room for creativity, both in terms of design and placement. Display ads can be placed in almost any shape and in any page in Mathrubhumi and its supplements.
To know more about Classified & Display Ads, Mathrubhumi, or about releaseMyAd, click on the appropriate tab above.